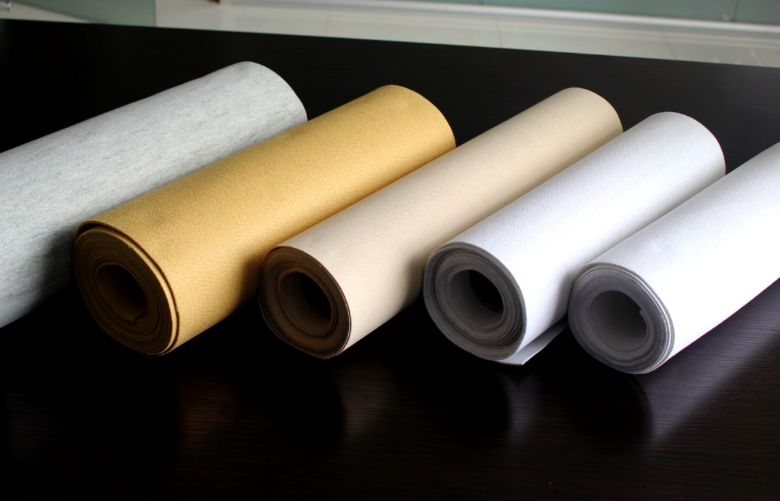 High Temperature Needle Punched Felt
For the industry dust collection filter bag, we would choose the high temp needle felt fabric for the filter bag if the working temperature is above 150 ℃ , such as PPS needle punched felt. Aramid needle punched felt, PTFE neede punched felt, P84 needle punched felt. and each material felt has its own specific formance
INTRODUCTION
:
High Temperature Needle Punched Felt

Features

● High-temperature needle punched felt are made by high temperature resisdence chemical fiber and treated with heat setting, singeing, calendaring,etc.

● The operation temperature is between 180-260℃.

● It is a kind high efficiency filter material,good twist resisdence,good wearing resisdence, great dust cleaning effective.

● Excellent resistance against acids,alkali and hydrolysis depends on material.

Specifications

High temperature Needle Punched Felt

Name

Weight(g/m2)

Thickness(mm)

Air permeability (m3/m2.min)

Working
Temperture(℃)

Thermal
shrinkage(%)

Continuous

Peak

Warp

Weft

PPS needle punched felt

400-650

1.8-2.2

8-20

160

190

≤1

≤1.5

P84 needle punched felt

500-600

2.0-2.4

8-20

220

260

≤1

≤1.5

PTFE needle punched felt

650-800

1.7-2.2

8-20

260

280

≤1

≤1.5

Aramid needle punched felt

450-550

1.8-2.4

8-20

204

240

≤1

≤1.5

Fiberglass compound needle punched felt

850-950

2.2-2.8

10-25

260

280

≤1

≤1.5

*** We have ability to use all kinds of manufacturing methods of non-woven fabric,

combining with fibers' specialties to design finish products to meet specific working condition

Applications

Dusting Bag

PH Value

Application

Remark


Polyphenylensulfide
(PPS)

1~14

Applicable to the working conditions with low-oxidation gas
from coal-fired boiler, waste incineration, metal smelting and chemical industries.

Moderate resistance to oxidation, but excellent
resistance to acids and alkalis.


Polyimide
(P84)

3~13

Applicable to corrosive gas, such as chemical, metal smelting,
waste incineration industries, cement kiln and coal-fired boiler.

Excellent resistance to high peak temperature.


Polytertrafluoroethylene
(PTFE)

1~14


Applicable to high-corrosive gas and high temperature, such as chemical industry,
coal-fired boiler, waster incineration industry and non-ferrous metal production.

Excellent resistance to all chemical influences.


Glass fiber (BQ)

3~11

It is extensively applicable to high temperature exhaust gas
filtration of various industrial furnaces like chemical industry,
steel,metallurgy,carbon black,power generation,cement,etc.,
It is applicable to kinds of dusting filter bag remover as
pulse deashing and hinger speed back flushing deashing etc.


Excellent for water-proof.